29.11.2019
Kirsan Ilyumzhinov attends the closing of the Iranian chess clubs championship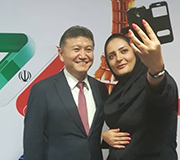 On 28 November, the first president of Kalmykia, the sixth president of FIDE Kirsan Ilyumzhinov was on a working trip to the Islamic Republic of Iran. On this day, Ilyumzhinov held important business and no less important meetings with friends in Tehran.
The closing of the Iranian chess clubs championship among took place in Tehran on 28 November. During the closing of the championship, Kirsan Nikolayevich played a chess game with the tournament's winner, and also wished success and victories to the Iranian Chess Federation and all Iranian chess players.
In memory of the tournament, a selfie was taken with the participant in the national championship among club teams.