12.06.2020
Ilyumzhinov holds a working meeting with Grigory Rapota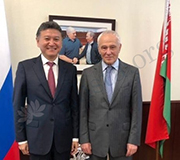 On 11 June, first president of Kalmykia, sixth president of FIDE Kirsan Ilyumzhinov met with the State Secretary of the Union State of Russia and Belarus Grigory Rapota.
During the meeting, the parties discussed the possibility of implementing business projects developing mutual beneficial relations. In addition, in a friendly conversation, Grigory Alekseevich warmly recalled his working visit to Kalmykia on 6 February 2008, when he was the Permanent Representative of the President of Russia in the Southern Federal District.
In memory of this visit, Mr Rapota conveyed his best wishes to the people of the steppe republic.