01.05.2021
Kirsan Ilyumzhinov's greetings on the holiday of spring and labour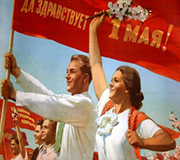 Kirsan Ilyumzhinov conveyed his best wishes to the readers of www.kirsan.today on May Day, the Day of Spring and Labour: May 1 is one of the most popular holidays in our country. It is a holiday of a working man, a day when valiant work is celebrated for the benefit of the Fatherland." Kirsan Ilyumzhinov noted: "May Day is a national holiday of spring and prosperity, glorious labour achievements and our common hopes for a peaceful and dignified life.
Thank you veterans and those who are just beginning their careers. Thank you all those who worked valiantly and who today apply their strength and abilities to the prosperity of our homeland! On this holiday, I wish everyone health and happiness, peace and prosperity!
Happy Spring and Labour Day!